Discover more from IN DEFENSE OF HUMANITY
David DeGraw's track record of being one of the first people to get the most critical National Security issues correct, while both political parties and the mainstream media have been tragically wrong, speaks for itself.
Over 5,000 subscribers
U.S. National Security Alert: Military Investigations Reveal History of Vaccine Science Fraud By Leaders of White House COVID Task Force
President Trump Must Take Immediate Action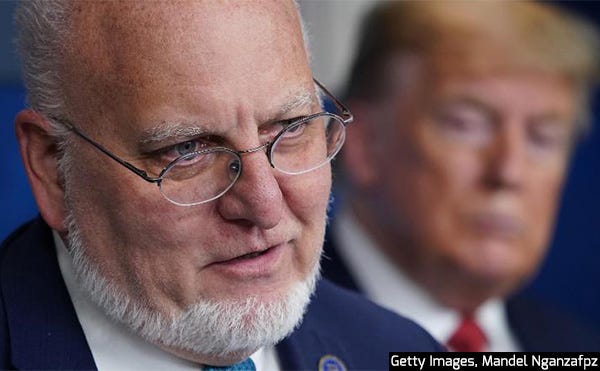 U.S. military investigators have proved that current CDC Director Robert Redfield, who is in charge of COVID vaccine development and leads the White House COVID Task Force, has a documented history of falsifying scientific data, has perjured himself and has repeatedly lied to Congress and the International scientific community.
U.S. military documents (doc one, two, three) show that Redfield, and his former-assistant Deborah Birx, who is also leading the COVID Task Force, knowingly falsified scientific data published in the New England Journal of Medicine, fraudulently claiming that an HIV vaccine they helped develop was effective.
Two military investigators charged Redfield and Birx with engaging in "a systematic pattern of data manipulation, inappropriate statistical analyses and misleading data presentation in an apparent attempt to promote the usefulness of the GP160 AIDS vaccine."
A subsequent Air Force Tribunal on Scientific Fraud and Misconduct (doc one, two, three) agreed that Redfield's misleading and deceptive information "seriously threatens his credibility as a researcher and has the potential to negatively impact AIDS research funding for military institutions as a whole." They then continued, stating that his "unethical behavior creates false hope and could result in premature deployment of the vaccine."
To avoid corrupt political influence, the Air Force Tribunal then called for an investigation by a "fully independent outside investigative body."
Redfield confessed -- to Defense Department interrogators and to the Air Force Tribunal -- that his analyses were faulty and deceptive. He also agreed to publicly correct them.
However, Redfield then continued to publicly lie and make false claims at three subsequent international HIV conferences, and perjured himself in testimony before Congress, swearing that his vaccine cured HIV.
Based upon his lies, Congress then appropriated $20 million to the military to support Redfield and Birx's research project. Once that happened, government oversight organization Public Citizen complained to then-Congressional Committee member Henry Waxman that the money caused the Army to kill the investigation and "whitewash" Redfield's crimes.
After covering up these blatantly corrupt actions and outright fraud, Redfield and Birx began their shocking rise to the top, becoming leading government "health" officials.
Robert Redfield is now the CDC Director, and he, along with his co-conspirator Deborah Birx, are leading the White House COVID Task Force. Prior to leading this task force, Deborah Birx served on the board of Bill Gates' Global Fund, which has a horrific track record of funding "vaccine" programs that engage in "grotesque human rights violations," as an Indian governmental investigation stated.
President Trump must immediately remove Robert Redfield and Deborah Birx from the CDC and White House COVID Task Force and hold them accountable for their Crimes Against Humanity.
As a Top Priority and urgent matter of National Security, President Trump must also began immediate investigations into Bill Gates. If Trump fails to take immediate action on both of these fronts, he is thereby complicit in Crimes Against the American People.
---
Source Documents & Links:
U.S. military investigation into Redfield & Birx (doc one, two, three)
Air Force Tribunal on Scientific Fraud and Misconduct (doc one, two, three)
Public Citizen Letter submitted to Congress.
Foreign Policy report exposing Redfield's scandalous history.
For a brief introduction into the Gates Foundation's Crimes Against Humanity, which cites several governmental investigations, watch this video.
This post built upon the vital work being done at the Children's Health Defence.
---
I am working w/ a small team of people who are volunteering their time to help investigate & publish the most vital info on these quickly unfolding issues.
We need your support!
Please consider donating here.
Much Gratitude & Respect,
~ David DeGraw